Two Pillars of Wireless Technology Success
Any wireless technology relies on two pillars to become successful. First, deliver pervasive wireless coverage through network deployments to enable customer applications. Second, have end customers using the networks, enabling continual, widespread business model rollout, while fostering an evergreen roll-out model.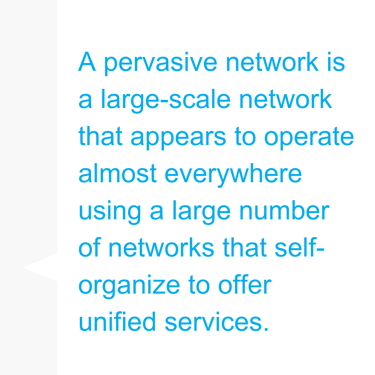 A pervasive network is a large-scale network that appears to operate almost everywhere using a large number of networks that self-organize to offer unified services. End users can connect a pervasive LoRaWAN network leveraging different types of networks (private, public or communities; satellite or terrestrial) depending on geographies and use cases. For instance, Wi-Fi technology can be considered as a pervasive technology in urban areas. The ambition of LoRaWAN standard is to be pervasive on the global scale: lands, sea, urban, sub-urban and remote areas.
LoRaWAN is on the way to meet these two challenges, just after seven years of existence: you are welcome to learn more about LoRaWAN at the LoRaWAN World Expo to celebrate LoRa Alliance's 7th anniversary.
Building Blocks of Pervasive LoRaWAN Network Coverage:
1. LoRaWAN is an open standard, and an official ITU-T standard
2. LoRaWAN standard is designed from the ground-up for cost efficient network infrastructure with minimal environmental impact due to very low energy consumption.
3. The breadth of the LoRa Alliance creates a vast LoRaWAN ecosystem with diverse network rollout models that are leveraged by LoRaWAN roaming
Community Networks
Over 800,000 community LoRaWAN network gateways (https://explorer.helium.com/hotspots)
We see LoRaWAN community networks expanding LoRaWAN reach across the globe. LoRaWAN community networks smartly complement carrier-grade public and private LoRaWAN networks for specific use cases like asset tracking and logistics or IoT applications in retails.
Public Networks
170 public LoRaWAN networks in all regions offering a carrier-grade quality of service, leveraging using cases requiring wide coverage like utilities, nationwide and international asset tracking, logistics or agriculture, able to deploy hybrid public and private networks for end customers.
Private Networks
Thousands of private networks globally, in countries where end users can choose between 'Make' or 'Buy' Network roll-out strategies depending on use cases (smart building, retail, logistics, industrial, agriculture) and financial constraints (capex or opex model).
Satellite Networks
Since 2020, LoRaWAN satellite operators have deployed LoRaWAN satellite constellations with global coverage that will be commercially available later in 2022 unleashing use cases like international asset tracking and logistics, remote utilities, agriculture, environmental, infrastructure monitoring, or maritime.
4. LoRaWAN ecosystem benefits from a high diversity of public network providers
Where the cellular ecosystem accounts for no more than a thousand mobile network operators, LoRaWAN network providers can operate in any industry using any network business model. To date, the LoRa Alliance includes:
- Over 20 mobile network operators like Orange, SK Telecom, Swisscom, KPN, and British Telecom
- Many of television broadcasters like Czech Radiokomunikace, Antenna Hungaria and Emitel
- The largest tower companies of the world like Cellnex, American Tower and HIS Tower
- A wide range of IoT companies like Everynet, NNNCo, Senet, and SenRa
- Satellite operators like EchoStar Mobile, Eutelsat and Lacuna space
- Multi-service operators that do not own licensed spectrum such as Comcast, Charter, Connexin, PT Telkom, and Tata communications
- Utility companies like A2A, Birdz and Netze BW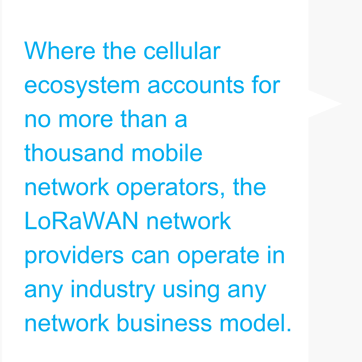 The following LoRa Alliance members with different types of network business models will explain why LoRaWAN is instrumental to their success.
"Validated by several critical measures of technology adoption and sustained market growth, the demand for public LoRaWAN networks has moved well beyond serving individual deployments and is now a preferred connectivity choice for massive and distributed IoT solutions," said Dave Kjendal, chief technology officer of Senet and member of the LoRa Alliance board of directors. "As a founding member of the LoRa Alliance, Senet is proud to be contributing to the growth of LoRaWAN network availability. With recent public network expansion, Senet's LVN technology which allows customers to seamlessly mix public and private network infrastructure, and integrations with the decentralized Helium Network and LoRaWAN satellite partners, our customers have access to borderless coverage and global managed network services designed to enable new use cases that transform the way businesses operate."
"The breakthrough of direct-to-satellite LoRaWAN connectivity is a real game changer," said Jon Pearce, chief commercial officer of Lacuna Space. "The LoRa Alliance ecosystem has steadily grown its terrestrial footprint over the preceding years. Now with Lacuna leading the new space frontier, the whole globe is fully covered via satellite connectivity ensuring that LoRaWAN is the de facto LPWAN of choice. Never again will a solution provider need to ask: 'Is my customer within coverage of a LoRaWAN network?.' We can now give a resounding 'yes!' given that 100% of the planet's surface now has coverage whether land or sea. This is a massive boost for business confidence in both the supplier ecosystem and end-user adopters, knowing they can utilize the same vibrant device marketplace and route data through their preferred cloud vendor, with no lock-ins and no geographic limitation."
"The Helium community has played a very significant role increasing LoRaWAN coverage and new applications around the world," said Scott Sigel, chief operating officer of Helium Foundation. "Thanks to the novel incentive model powered by the Helium Blockchain, the deployment of Helium-compatible LoRaWAN gateways has climbed from 14,000 to over 700,000 globally since January 2021. Helium Foundation is excited to be working closely with the LoRa Alliance to create a more connected world."
To conclude, LoRaWAN has been designed from the ground up as an evergreen standard enabling a large diversity of network roll-out models (private, public, communities, terrestrial, and satellite) where massive IoT end users can choose and combine the best network options to serve their IoT use cases of choice.
Moreover, the diversity of business models (make or buy and multiple monetization options) supports IoT end users removing many of their financial constraints.
Lastly, the unbounded diversity and number of LoRaWAN network providers reinforces LoRaWAN ecosystem sustainability for the future while fostering innovation.
Semtech is a LoRa Alliance Sponsor member.
For additional information, visit https://semtech.com/