Day 2 Highlights
It's been another energizing day at the LoRaWAN World Expo. We are inspired, enthused, impressed, appreciative, and will leave Paris excited to continue the LoRaWAN journey. See some of the highlights and memorable moments from this enthralling event.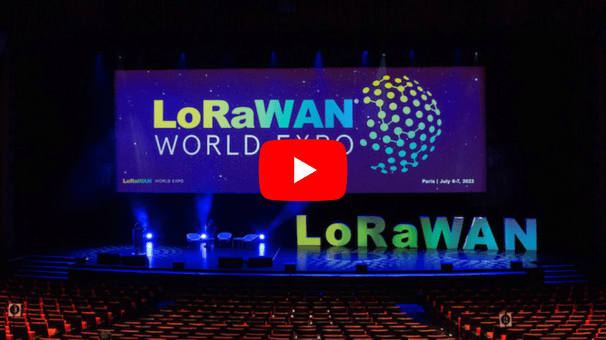 Speaker Highlights
Satellite Connectivity (no information)
When it comes to LoRaWAN, space is not "the final frontier." Instead, satellites providers are very much a part of the LoRa Alliance ecosystem, partnering with other network and solutions providers to extend the reach of existing terrestrial LoRaWAN networks.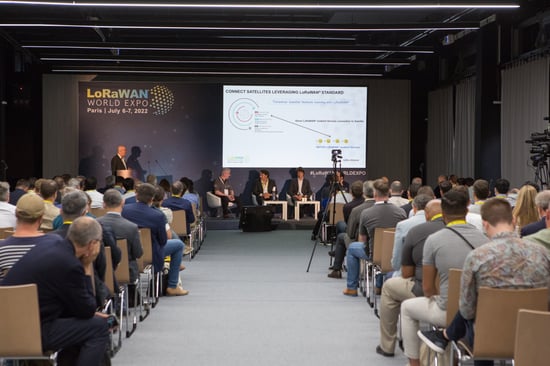 Satellite panelists provide out-of-this-world evidence of the expanded potential of LoRaWAN with satellite networks.
LoRaWAN End-to-End Security Walk-through: Ensuring IoT Security Today and Tomorrow
Security is top-of-mind in every LoRaWAN deployment, and leaders from Multi-Tech, Senet, and Semtech walked us through key security elements of LoRaWAN and how security is locked into every step of the end-to-end IoT process.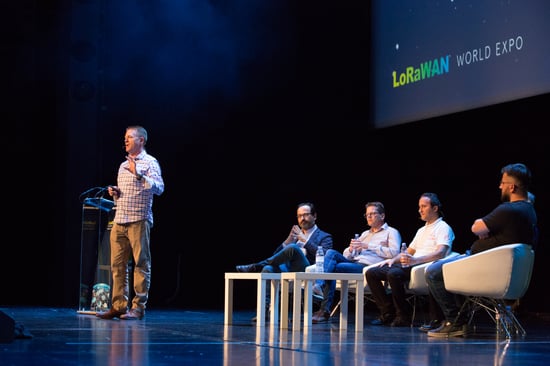 LoRaWAN Security panelists enumerate LoRaWAN's security features.
Smart Cities - Serving Citizens Via LoRaWAN Enabled IoT Services
Three cities on different continents demonstrated how they use LoRaWAN to improve the lives of citizens with LoRaWAN IoT services and how they chose their technology partners.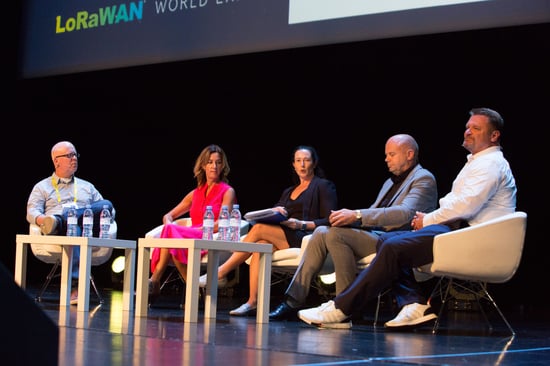 Smart Cities panelists share their deployment take-aways.
Decarbonizing the Built Environment with LoRaWAN - A Practical Guide to Tackling Climate Change and Achieving ESG Goals
Leaders from Logical Buildings, Blue IoT, and Talkpool discussed how smart buildings and cities can help create sustainable LoRaWAN solutions amidst climate change.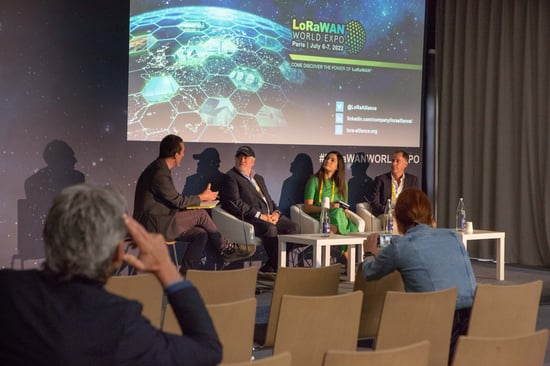 Climate Change panelists discuss the positive impact of smart buildings on climate change.
Thank you all for joining us at the first ever LoRaWAN World Expo. We know that you couldn't possibly have seen all the sessions, and we are excited to share them with you digitally in the coming weeks. Please look for more information at Webinars & Videos. Sign up for our newsletter to keep current on new information as it's available.
For those of you who are not yet members of the LoRa Alliance, please join today and take advantage of the partnerships you can develop in our remarkable ecosystem.
Up Next for the LoRa Alliance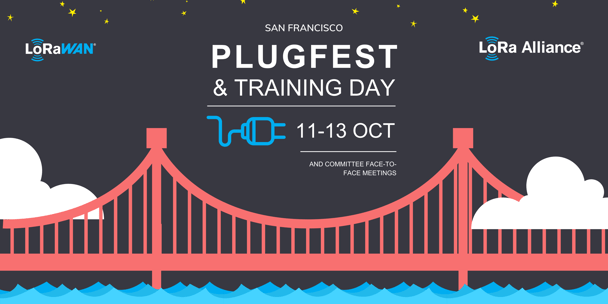 LoRa Alliance is coming to San Francisco!
Find us next in San Francisco, USA, for our final LoRaWAN Event and Committee Face-to-Face Meeting of 2022, October 11-13. Following the Committee Face-to-Face Meetings, the public is invited on October 13th for the LoRa Alliance's first ever Plugfest and LoRaWAN Training Day.
Calling all device makers! Join the LoRaWAN Plugfest for a day of pre-certification testing with the LoRaWAN Certification Test Tool. Authorized Test House representatives will engage with companies so they develop the knowledge and confidence to certify devices, sensors, and modules and get your devices to market faster.
The LoRaWAN Training sessions will cover how to build an end-to-end solution, enable LoRaWAN device-to-device multicast communications, and set up a tracker on a community platform with roaming. Join us to learn all you need to know to get your LoRaWAN solutions up and running.
Sign up for our newsletter below to be the first to register for the LoRaWAN Plugfest and Training Day.
Thank you again for joining us at LoRaWAN World Expo. The incredible conversation, demonstration, and ideation that truly made the LoRaWAN World Expo the success it was. See you in San Francisco!