LoRaWAN World Expo Day 1 Highlights
What an incredible first day of the LoRaWAN World Expo. It's hard to say what our favorite moment was, so we've included some highlights from talks and demonstrations that were especially well-received. If you didn't join us today, we can promise an equally exciting second day tomorrow.
Welcome Keynote by Donna Moore, CEO and Chairwoman of the LoRa Alliance
In Donna's inspirational keynote, she described how LoRaWAN is an essential technology because it provides people, the planet, and businesses a strong foundation upon which to build and flourish. Member videos demonstrated how LoRaWAN measures the vital signs of our society.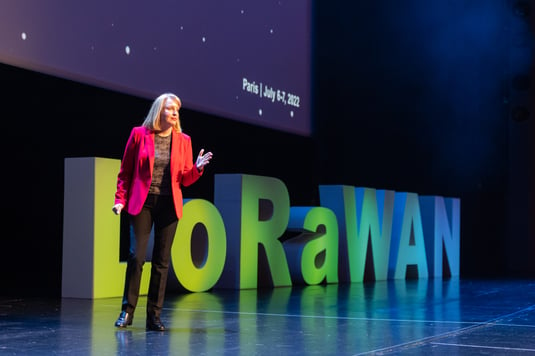 "LoRaWAN is at the heart of the IoT digital transformation." –Donna Moore
Congratulations
Please introduce yourselves to these LoRa Alliance leaders and congratulate them for their contributions that made 2021 an outstanding year for us all.

LoRaWAN in Action
Do you want to know more about asset tracking, temperature monitoring, or building usage? We hope you took a moment to download our LoRaWAN in Action app and observed LoRaWAN sensors at work on the Expo floor. A very special thank you to the LoRaWAN members who made this project possible: Abeeway, Actility, Elsys.se, IoThink, Motorola Solutions, and Sensative.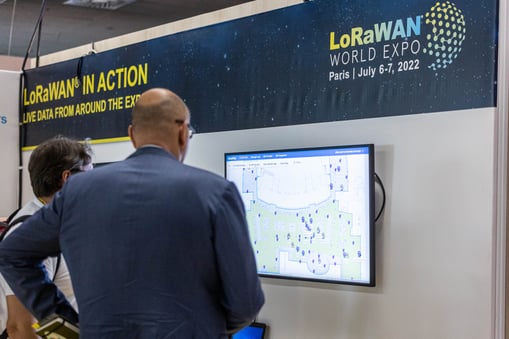 Sensors at work courtesy of LoRaWAN in Action." Watch live:
Some of our Speaker Highlights
Irina Reyes, colleague of Mariya Gabriel, EU Commissioner
It was very exciting to hear about the EU's commitment to IoT. The governing body has put 2.2 billion EU in the budget to support IoT start-ups as well as an investment in Digital Europe educational programs of 580 million EU and an overall budget of 26 billion EU earmarked for IoT systems that will engage businesses to use IoT measurement to proactively serve communities better.
Decarbonizing the World Using LoRaWAN®, One Sensor at a Time
Alistair Fulton of Semtech envisions 1 billion #LoRaWAN connections that can help us protect our resources through measurement and monitoring. Like us, he is truly inspired by the LoRaWAN ecosystem and the partnerships that are enabling us to build a better future.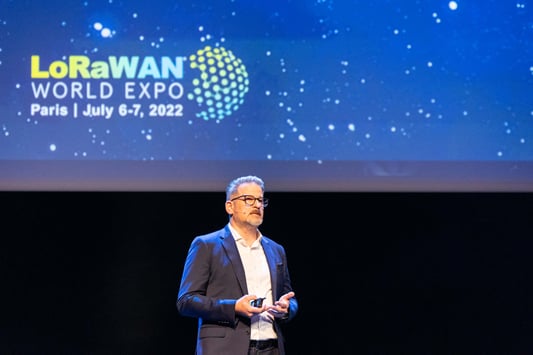 Alistair Fulton, General Manager & Senior Vice President, IoT / LoRa & Consumer Sensing Businesses at Semtech
Natural Disaster Prevention & Recovery Technologies
Members Decentlab GmbH and Thingy IoT made compelling arguments for how LoRaWAN can be used to monitor and mitigate the impact of natural disasters including floods, wildfires, and other severe weather issues caused by an increasingly volatile climate. LoRaWAN sensors are the connectivity superheroes in areas with challenging terrain and harsh environments.
The Value of Standards: Importance of Cross-Sector Collaboration
Wonderful to hear from Christina Bueti, representative of ITU, about the importance of technology
standards to create the framework against which organizations can measure themselves. Besides driving competition, standards also encourage collaboration, enhance customer satisfaction, and support integration of ICTs worldwide.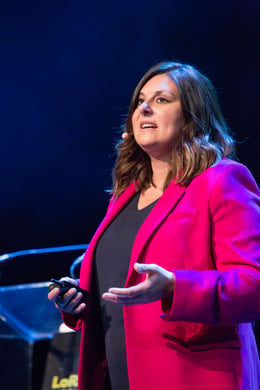 How LoRaWAN Can Help Utilities in Their Journey of Digital Transformation
Three utility companies—Greenlap, VEOLIA, and Nortegas Energia—discussed the benefits and challenges of IoT for utilities and how the diversity of the LoRa Alliance ecosystem has enabled them to create LoRaWAN solutions for water, gas, and smart grid.
LoRaWAN in Healthcare: Smart Hospitals, Wearables for Adults with Dementia, and Wearables for Respiratory Health Monitoring
Three LoRa Alliance members discussed how their firms impact the health and welfare of people receiving services from our healthcare systems. From making hospital buildings smarter to tracking patients who wander or those whose vital signs need to be monitored remotely, these technology leaders demonstrated how LoRaWAN inspires and enables us to take better care of people.
Did you miss today?
There are more exciting topics coming up tomorrow, including talks on LoRaWAN security, enterprise deployments, satellites, the LoRa Alliance Pre-Certification Test Tool, climate change, smart cities, and discussions of real deployments.
We look forward to seeing you tomorrow!